The Land of Milk(y) and Honey?: Israelis in Berlin
English Theatre Berlin
Fidicinstr. 40
10965
Berlin
Tickets from €16.50
Concessions available
Event organiser: English Theatre Berlin, Fidicinstraße 40, 10965 Berlin, Deutschland
Event info
Following completely sold-out initial runs in the fall of 2018 and winter of 2019, we are very pleased to offer these six encore performances.
LIMITED SEATING: Please note that there are only 50 tickets available for each performance!


"I pity those who no longer remember the Holocaust and abandon Israel for a pudding."

This statement, made by Yair Shamir, then Israeli Minister of Agriculture, to the Jerusalem Post in October of 2014, marked the climax of the so-called "Milky protest". In a post that launched a thousand ships, the Facebook page Olim L'Berlin (Aliyah to Berlin) urged Israelis to move to Berlin due to a markedly cheaper cost of living. The primary evidence? Aldi's Puddingcreme mit Sahnehaube, a dessert comparable to Milky, the dominant pudding brand in Israel, sold for less than a third of the price. This Facebook post received more than one million likes within four days and created headlines around the globe.

Nearly 75 years after the end of the Second World War, Berlin's Israeli community is estimated to number in the tens of thousands and impossible to verify due to issues of multiple citizenship. Is Berlin truly this promised land of milk and honey? Are people from Israel really immigrating here only because of the standard of living, nightlife and Berlin´s fabled cultural reputation? What about those Israelis who leave the country due to the current political climate? And what affect does 20th century history as well as multiple reports of rising antisemitism having on emigration from Israel to Germany?

Three Israeli performers explore these questions using verbatim text from 60 interviews with the widest possible spectrum of partners; Israelis with an active religious background, Israeli Arabs, highly politicized Israelis as well as Israelis who have absolutely no interest in politics. All text spoken during the performance will come directly from these interviews, presenting the faces of the communities so often presented as a faceless crowd.
Location
F40 Berlin
Fidicinstraße 40
10965 Berlin
Germany
Plan route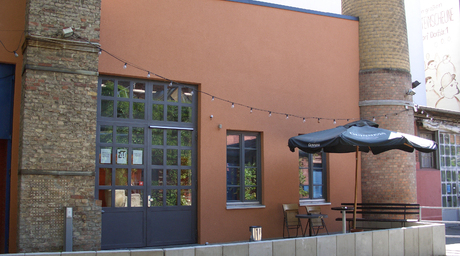 Das F40 in Berlin Kreuzberg ist seit Januar 2006 die gemeinsame Spielstätte des English Theatre Berlin und des Integrationstheaters Theater Thikwa. 90-140 Zuschauer finden vor der großen Bühne Platz. Zusätzlich bietet die Studiobühne eine Kapazität von 50-70 Plätzen.

Zur Berliner freien Szene gehörend, ist das English Theatre Berlin die einzige ausschließlich englischsprachige Bühne der Hauptstadt. Von Klassikern bis zu Neuentdeckungen, aber auch Sprechtheater und Comedy stehen hier auf dem Programm und regen Künstler und Publikum zu einem gemeinsamen Gespräch über einander und die Welt in der wir leben an. Daneben werden die Inszenierungen des Theater Thikwa von Schauspielern mit und ohne Behinderungen gemeinsam erarbeitet und auf die Bühne gebracht. Es sollen dabei nicht nur die Unterschiedlichkeiten, sondern vor allem auch die Gemeinsamkeiten der teilnehmenden Künstler zum Ausdruck gebracht werden. Auf experimentelle Weise werden die Bereiche Schauspiel, Performance, Musik, Sprache und Tanz auf ihre Abgrenzungen hin untersucht.

Zwei auf den ersten Blick völlig unterschiedliche Theater arbeiten im F40 erfolgreich unter einem Dach und locken sowohl die Liebhaber der englischen Bühne, wie auch in sozialer Hinsicht Experimentierfreudige in ihre gemeinsamen Hallen.