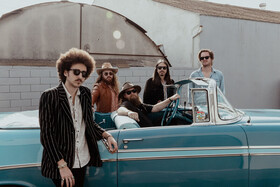 ROBERT JON & THE WRECK
Nachtleben
Kurt-Schumacher-Str. 45
60313
Frankfurt am Main
Event organiser:
Frankfurter Kulturzentrum e.V., Gwinnerstr. 5, 60388 Frankfurt, Deutschland
Information on concessions
Achtung: Der Nachtleben Konzertkeller ist nur über Treppen erreichbar und somit nicht barrierefrei! Zutritt für Rollstuhlfahrer nur auf eigene Verantwortung möglich. Schwerbehinderte mit B im Ausweis zahlen den Normalpreis. Die Begleitperson erhält kostenfreien Eintritt und benötigt kein eigenes Ticket. Der Schwerbehindertenausweis ist vor Ort vorzuzeigen.
Event info
Reigning from southern California, Robert Jon & The Wreck take the southern rock sound from the east coast and make it their own. Since their inception in 2011, these four native Californian's; Robert Jon Burrison (lead vocals, guitar), Andrew Espantman (drums, background vocals), Henry Schneekluth (lead guitar, background vocals), Warren Murrel (bass) have been electrifying audiences all over the world with their soaring guitar leads, rich vocal harmonies, and memorable tunes. Fueled by this success, RJTW took the road again delivering fierce performances, emblazoned with commitment, and dripping in a rawness that's impossible to fake. Simply put, it is difficult to ignore when these musicians take the stage. Little wonder they have made an impact on audiences across the world, where they've played a run of sold-out shows and proudly shared bills with talent the likes of Joe Bonamassa, Walter Trout, and Rival Sons. The Wreck found their flow with yearly tours, returning to California and prolifically releasing new music. 2021's studio album Shine A Light On Me Brother gained worldwide acclaim. Their latest single releases from their forthcoming EP One of A Kind include "Pain No More" and "Who Can You Love." In 2022 the band released singles "Rescue Train," "Old Hotel Room," "Dark Roses," "Waiting For Your Man" and "She's A Fighter" which are available now via blues-rock titan Joe Bonamassa's Journeyman Records. For more information visit at www.robertjonandthewreck.com. #GetWrecked
Event location
Nachtleben
Kurt-Schumacher-Straße 45
60313 Frankfurt am Main
Germany
Plan route
Das Nachtleben in Frankfurt ist spannend und abwechslungsreich. Welcher Name wäre also passender als "Nachtleben" für einen Club, mitten im Herzen der Mainmetropole, in dem am Wochenende ordentlich die Post abgeht?

Oben ist ein kleines aber feines Café, in dem man sich in gemütlicher Atmosphäre das ein oder andere Heiß- oder Kaltgetränk ganz genüsslich zuführen kann. Eine Etage tiefer jedoch, ist der eigentliche Ort des Geschehens. Wenn die Lichter der Großstadt aufleuchten und die Zeit der Nachtschwärmer gekommen ist, zieht es sie alle in den Frankfurter Kult-Club, der bereits seit zwei Jahrzehnten eine absolute Top-Adresse darstellt. Regelmäßig finden hier neben Rock-, Indie-, Pop-, und Underground-Partys auch Live-Acts vielversprechender Newcomer statt. So standen hier bereits Bands wie Rammstein, Snow Patrol oder die Sportfreunde Stiller auf der Bühne, als diese noch kaum jemand kannte.

Hier wird die Nacht zum Tag. Egal ob Konzert oder Party, im Nachtleben ist immer was los. Punks, Electro-Fans, Rocker, Hipster, Normalos – alle tummeln sich hier und erleben zusammen eine aufregende Zeit.