Zu Ihrer Sicherheit und der weiteren Eindämmung des Coronavirus finden alle Veranstaltungen unter Einhaltung der gesetzlichen Vorschriften statt. Bitte beachten Sie die Hygienemaßnahmen vor Ort.
Night of the Prog Festival XV 3.0 - 24.07.2022 Dayticket - Sunday -
Loreley Freilichtbühne
Auf der Loreley
56346
St. Goarshausen
Event organiser:
WiV Entertainment GmbH, Zum Klärwerk 3, 89269 Vöhringen, Deutschland
Event info
16. Night of the Prog Festival mit Renaissance, PFM, Steve Hackett - Genesis Revisited - Seconds Out and more + many other first class prog acts. Purchased tickets from 2020 are valid for 2021.
For festival infos please visit: https://www.nightoftheprogfestival.com
Promoter/Veranstalter Night of the Prog Festival: WiV Entertainment GmbH I www.wiventertainment.de
Event location
Loreley Freilichtbühne
Auf der Loreley
56346 St. Goarshausen
Germany
Plan route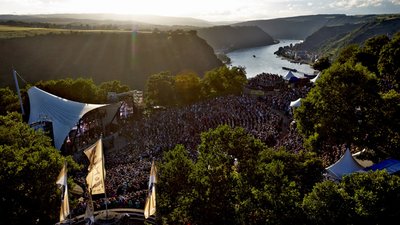 Die Freilichtbühne Loreley gehört nicht nur wegen zahlreicher Mythen zu den interessantesten Veranstaltungsorten Deutschlands: Der Sage nach saß das Mädchen Loreley abends auf dem Felsen am Rhein und kämmte ihre langen, blonden Haare. Mit ihrem Gesang und ihrer Schönheit lenkte sie die vorbeifahrenden Seemänner ab, sodass viele zwischen den gefährlichen Felsen verunglückten.

Heute gehört der mächtige Loreleyfelsen zum UNESCO Weltkulturerbe und ziert zusammen mit der Burg Katz die malerische Landschaft am Mittelrhein. Nicht weit entfernt von der Felsspitze liegt die Freilichtbühne Loreley im kleinen Städtchen Sankt Goarshausen. Aufgrund der einzigartigen natürlichen Akustik wurde die Bühne seit ihrem Bau 1939 für viele erfolgreiche Festivals und Konzerte genutzt. Genesis, U2, Herbert Grönemeyer, Joe Cocker, die Red Hot Chili Peppers sowie Metallica sind nur einige von den vielen Stars, die bereits am Ufer des Rheins aufgetreten sind.

Nutzen Sie die Möglichkeit Ihren Lieblingskünstler live in der traumhaften Umgebung des Mittelrheintals erleben zu können! Für ausreichende Parkmöglichkeiten ist gesorgt.