Verschoben
Bisheriges Datum:
Mary Ocher
Milla
Holzstraße 28
80469
München
Event organiser: Missmilla GmbH, Holzstraße 28, 80469 München, Deutschland
Event info
Mary Ocher is back in Europe for selected dates, fresh off the recording of a new album and a tours of North America, Australia and New Zealand.
She has toured 30 countries with the much celebrated "The West Against The People" and its companion release "Faust Studio Sessions and Other Recordings".

Over the past decade Mary has been persistently creating passionate, uncompromising work, raw, thought provoking, socially and creatively pushing against the current, dealing with subjects of authority, identity and conflict. Her work is as enchanting as it is polarizing, ranging from traditional folk to raw 60s garage, ambient with ethereal vocals and abstract synths, to experimental pop with African and South American rhythms when performing with her drummers. (Your Government)

"The West Against The People" was released on H.J. Irmler´s label Klangbad (of Krautrock pioneers Faust). It features collaborations with elusive legends Die Tödliche Doris and Felix Kubin and an essay elaborating on the themes of the album and analyzing the current sociopolitical climate*. Her previous solo release was produced by Canadian Psych Rock&Roll guru King Khan.

*The essay can be read here:
www.maryocher.com/essay.html
Location
Milla Club
Holzstraße 28
80469 München
Germany
Plan route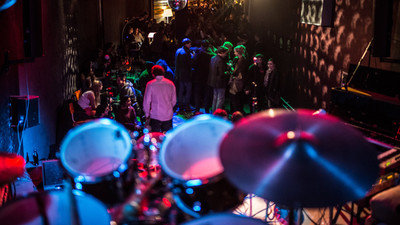 Klein hat sie angefangen, die Milla in München. Mittlerweile stehen aber so gut wie jeden Abend Künstler der verschiedensten Genres auf der Bühne des kleinen Lokals, gelegen im angesagtesten Viertel Münchens, das Glockenbachviertel. Das Ambiente des Live-Clubs ist einzigartig. Ein langer schmaler Raum (früher lief hier ein Bach entlang) ist ausgestattet mit alten Polstersofas und rustikalen Holzbänken und das Bier könnte auch mal kippen, denn alles ist leicht schräg.

Schräg. Das beschreibt die Milla eigentlich perfekt und das ist, was die Gäste an dieser Lokalität so lieben. Auf die Idee einer solchen Bar kommt auch nicht irgendwer. Nein, Gerd Baumann (Musiker und Komponist), Peter Brugger (Sportfreunde Stiller) und Till Hofmann (Betreiber des Münchner Lustspielhauses) sind die Initiatoren der Milla. Bei so viel Prominenz kann es dann schon mal vorkommen, dass die Schöpfer selber mal auf der Bühne stehen und ein bisschen rum experimentieren.

Die Milla hat Charakter und ist so ganz anders als die anderen Bars und Clubs in München. Und genau das macht sie so besonders und ist auf jeden Fall einen Besuch wert. Sie erreichen die Milla am besten mit den Öffentlichen Verkehrsmitteln. Von der Tram- und U-Bahnhaltestelle "Sendlinger Tor" bzw. "Fraunhoferstraße" sind es nur wenige Gehminuten in die Holzstraße.