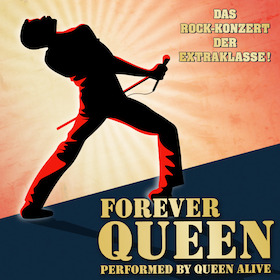 Rescheduled
Previous date:
FOREVER QUEEN - performed by Queen Alive
Kaiserbädersaal
Kulmstraße 33
17424
Seebad Heringsdorf
Tickets from €41.90 *
Concession price available
Event organiser:
RESET Production, Straße des Friedens 200, 07548 Gera, Deutschland
Event info
THE SHOW MUST GO ON!

Unter diesem legendären Motto zelebriert und feiert Queen Alive ab Oktober 2023 deutschlandweit erneut Queen.

Damit setzen die 4 italienischen Künstler ihre seit Jahren europaweit erfolgreiche Show FOREVER QUEEN mit ihrer Hommage an den Ausnahmekünstler Freddie Mercury fort und rocken mit unvergesslichen Kulttiteln wie "Radio Gaga", I Want It All", "We Are The Champions", "Somebody To Love" oder "We Will Rock You" u.v.a.m. die Hallen - nicht zu vergessen "Barcelona" im Duett mit der stimmgewaltigen Sopranistin.

Leadsänger Francesco tritt dabei in große Fußstapfen und kommt seinem Vorbild Freddie Mercury stimmlich und optisch beeindruckend nahe, ohne sich mit ihm vergleichen zu wollen. Neben ihm komplettieren die Vollblut-Musiker Fabrizio Palermo, Tizian Giampieri und Simone Fortuna die Performance der Live-Band und überzeugen das eingefleischte Fan-Publikum mit erstklassig gespielten Songs sowie großartigen Solos.

Für Queen-Fans tief beeindruckend und mitreißend bereitet FOREVER QUEEN performed by Queen Alive Freddie Mercury und seinem Lebenswerk nicht nur ein ehrendes Gedenken - nein - es lässt ihn für gut 2 Stunden auferstehen.
Videos
Directions
Kaiserbädersaal
Kulmstraße 33
17424 Seebad Heringsdorf
Germany
Plan route