Zu Ihrer Sicherheit und der weiteren Eindämmung des Coronavirus finden alle Veranstaltungen unter Einhaltung der gesetzlichen Vorschriften statt. Bitte beachten Sie die Hygienemaßnahmen vor Ort.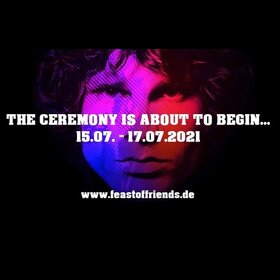 Rescheduled
Previous date:
Feast Of Friends Festival 2023 - Festivalticket
Heyrothsberger Park / Bunker-Gelände
Parkweg 1B
39175
Heyrothsberge
Event organiser:
FestungMark Betriebsgesellschaft mbH, Hohepfortewall 1, 39104 Magdeburg, Deutschland
Event info
Feast of Friends - The Doors Open Air Festival

Das Feast Of Friends ist das weltweit einzige der Kult-Band "The Doors" gewidmete 3 Tages Festival und findet dieses Jahr zum 16. Mal auf dem Gelände des Ex-Stasi-Bunkers im Heyrothsberger Park in Biederitz-Heyrothsberge statt.

Feast Of Friends is the world's only 3 day festival dedicated to the legendary band "The Doors" and takes place for the 16th time on the site of the former Stasi-Bunker at Heyrothsberger Park in Biederitz-Heyrothsberge near Magdeburg.

Jetzt schon hier das Festivalticket vom 13. bis 15.7.2023 sichern

Tickets aus 2022 behalten Ihre Gültigkeit!

I will not go. Prefer a feast of friends to the giant family ...