ExPloRe
English Theatre Berlin
Fidicinstr. 40
10965
Berlin
Event organiser: English Theatre Berlin, Fidicinstraße 40, 10965 Berlin, Deutschland
Die Veranstaltung wurde auf unbekannt verschoben.
Event info
This format opens the festival and is dedicated to newcomers, shorter performances and work-in-progress. Spend an entire afternoon taking in four different performances. Four performances, one ticket!

- I Am Everybody, I Am Every Body - 1pm / 13 Uhr
An experimental perfor-mance and audio-visual piece that traces a fractured semi-autobiography of MARQUE-Lin as a daughter of Vietnamese refugees. Using extractions from her life as footage and mate-rial, B_No_Source [live] will modulate and rearrange MARQUE-Lin's voice live on stage, transforming her into - a na-tion-less AI-produced female entity that has decided to finally investigate the systems and networks that have created her in search of her point of origin and subsequently her purpose in living an existence of such ambiguity and suffering.

- Milktooth - 2:30pm / 14:30 Uhr
This is the story of a young single mom trying to save her special-needs-child from being taken away by the intergalactic child services, all the while attempting to love someone who does not fit into the human definition of "lovable".

- Con-Sensual - 4pm / 16 Uhr
Con-Sensual is an interdisciplinary performance project that takes a close and intimate look at how much of an understand-ing we really have of our (chosen or given) gender roles and the parts we play.

- The Horror Woman a.k.a too dark ... too sweet ... too dead? - 5:30pm / 17:30 Uhr
The Horror Woman a.k.a too dark ... too sweet ... too dead?is a dance horror piece, exploring feminine archetypes and expressions of femininity in horror, the female gaze in horror as well as the translation and transitions between cinematic and stage languages.
Location
THEATER THIKWA
Fidicinstraße 40
10965 Berlin
Germany
Plan route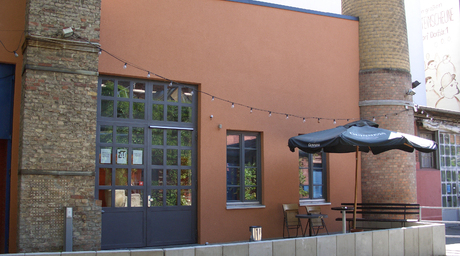 Das F40 in Berlin Kreuzberg ist seit Januar 2006 die gemeinsame Spielstätte des English Theatre Berlin und des Integrationstheaters Theater Thikwa. 90-140 Zuschauer finden vor der großen Bühne Platz. Zusätzlich bietet die Studiobühne eine Kapazität von 50-70 Plätzen.

Zur Berliner freien Szene gehörend, ist das English Theatre Berlin die einzige ausschließlich englischsprachige Bühne der Hauptstadt. Von Klassikern bis zu Neuentdeckungen, aber auch Sprechtheater und Comedy stehen hier auf dem Programm und regen Künstler und Publikum zu einem gemeinsamen Gespräch über einander und die Welt in der wir leben an. Daneben werden die Inszenierungen des Theater Thikwa von Schauspielern mit und ohne Behinderungen gemeinsam erarbeitet und auf die Bühne gebracht. Es sollen dabei nicht nur die Unterschiedlichkeiten, sondern vor allem auch die Gemeinsamkeiten der teilnehmenden Künstler zum Ausdruck gebracht werden. Auf experimentelle Weise werden die Bereiche Schauspiel, Performance, Musik, Sprache und Tanz auf ihre Abgrenzungen hin untersucht.

Zwei auf den ersten Blick völlig unterschiedliche Theater arbeiten im F40 erfolgreich unter einem Dach und locken sowohl die Liebhaber der englischen Bühne, wie auch in sozialer Hinsicht Experimentierfreudige in ihre gemeinsamen Hallen.